Contents
Mission
PREreview's mission is to bring more diversity and equity to scholarly peer review by supporting and empowering communities of researchers, particularly those at early stages of their career (ECRs) and historically underrepresented in scholarship, to review preprints in a process that is rewarding to them.
In 2017, we founded PREreview because we believe science and scholarship should be equitable, transparent, and collaborative.
PREreview gives systematically disadvantaged scientists better ways to find a voice, train, and engage in peer review. Our work is a direct response to the flawed way scientific research is evaluated. Behind closed doors, a handful of unpaid reviewers—selected opaquely and mainly through personal connections—use subjective criteria to decide the fate of a research article. This arcane process is slow and disadvantages researchers from historically underrepresented groups.
PREreview closes obvious gaps in the process to make research and how it's evaluated more equitable. We train researchers in giving and receiving feedback, we engage communities of underrepresented researchers, and we implement measures to reflect on personal bias.
In taking these vital steps,
PREreview envisions a future in which every researcher is empowered with the skills to recognize and fight bias, and is welcomed into a peer review culture where constructive feedback is expected and rewarded.
Our values are integral to how and why we do this work. As a part of our commitment to transparency and equity, we share our values below.
Values
We believe in equal access
The fair distribution of advantages and relationships has the potential to change the face of scientific research. By providing pathways to mentorship, collaborative constructive feedback, and publishing of peer reviews, we are dedicated to expanding the reach of science from marginalized communities. We seek to level the playing field of the scientific community by offering resources that are often unavailable to underrepresented scientists.
We believe in connecting people
Collaboration is a critical component of the research process. Scholarly conversation and feedback close unseen gaps and generate new ideas. As scientists, we know relationships cultivate dynamic and robust science. Toward that end, we are committed to building bridges between researchers and reviewers and mentors and mentees as a vital part of equity and scientific rigor.
We believe in self reflection
Bias is a reality of our work and our world. We recognize this fact, and work to alleviate its impact. Scientists who participate in our mentoring program use action-oriented tools to mitigate the bias we all have when we mentor, peer review, and conduct ourselves on an everyday basis. We implement these steps in order to make our work and our field more equitable.
We believe in measurable success
Commitments to equity must be accompanied by data and action. We set our equity goals around key metrics that center user inclusion and diverse demographics. At every level, our programming reflects an evidence-based approach and tangible benchmarks.
What we do
We accelerate discovery by enabling constructive feedback to preprints at a point in time in which it is needed.
We provide opportunities for researchers to create meaningful collaborations and connections defeating cultural and geographical barriers.
We partner with like-minded organizations to organize events, run programs, and work together on open infrastructure to create rewarding preprint review experiences for researchers.
Read more about our Programs.
PREreview.org
PREreview.org is an open-source platform designed from the ground up to engage the whole scientific community with collaborative and constructive full-length peer reviews of preprints.
Some of the key features of the latest PREreview.org platform include the ability for users to sign-in with their ORCID IDs (with optional pseudonymity), solicit preprint feedback, write rapid and long-form reviews to preprints, comment and endorse others' reviews, all in accordance with PREreview's Code of Conduct.
Fiscal sponsor
Code for Science & Society (CS&S) is our fiscal sponsor. CS&S provides administrative and strategic resources to project leads to support them in developing innovative technologies that benefit humanity. CS&S supports PREreview by  assisting in managing partnerships with scientists and institutions, connecting with the larger open scholarship community, fundraising, as well as hiring and management of staff.
Funders and sponsors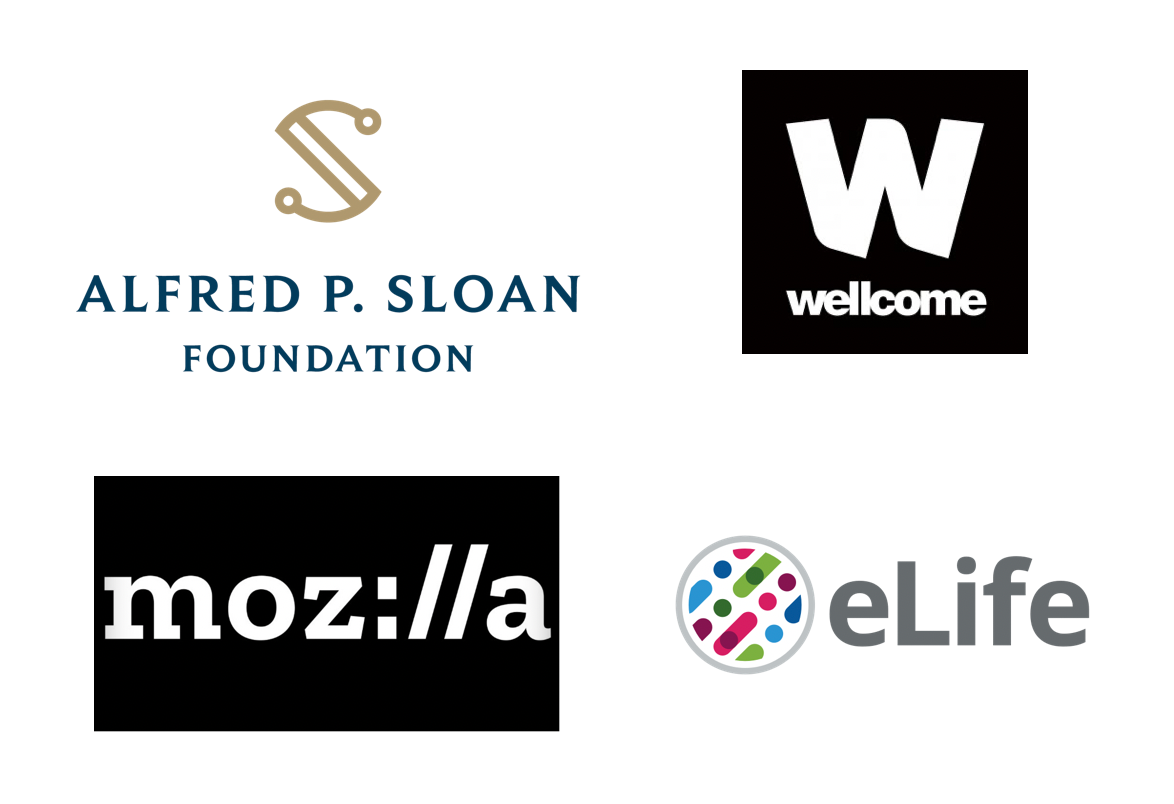 Presented in alphabetic order, below are the funders who have supported us in different capacities since 2017:
Alfred P. Sloan Foundation funded PREreview twice, once in 2018 to support our initial MVP release of prereview.org ($65,780 USD, grant 2018-8729), and once again in 2019 ($197,225 USD, grant 2019-9228) to fund user research and improvements on the platform for a new release coming soon, as well as to support our efforts in building materials and running live-streamed preprint journal clubs.
eLife sponsored our pilot Open Reviewers program by supporting the salary of our program manager ($34,000 USD).
Mozilla Foundation was our first funder with the Mozilla Mini-Grant 2017, awarding our first project aimed at engaging groups of researchers in the review of preprints during preprint journal clubs ($2,000 USD).  
Mozilla sponsored our Co-Founder and Director Daniela Saderi's salary for 10 months (September 2018-June 2019) via her Mozilla Fellowship ($60,000 USD).
Mozilla has also sponsored several events hosted by PREreview, including a design sprint for Outbreak Science Rapid PREreview in London in 2019 ($10,000 USD) and an open source sprint the summer of 2020 ($10,000 USD), as well as our pilot Open Reviewers program ($25,000 USD).
Wellcome Trust funded the development of the Outbreak Science Rapid PREreview platform in collaboration with the non-profit organization Outbreak Science (£50,000 GBP).
The Wellcome Trust awarded us with an enhancement grant to organize and host design sprints focused on diversity, equity, and inclusion (£20,000 GBP).
The Wellcome Trust also funded us to develop the Outbreak Science Rapid PREreview API and documentation for third-party site integration ($37,000 USD).
Contact
For any questions or concerns, or to report a violation of the Code of Conduct, please contact us at contact@prereview.org.
For anonymous Code of Conduct violation, please fill out this form.
Follow us on Twitter @PREreview_.
Join us on Slack. PREreview Code of Conduct applies.