Fiscal Sponsor
PREreview is a fiscally sponsored project of Code for Science & Society (CS&S). CS&S is a registered US 501(c)(3) nonprofit. They provide administrative and strategic resources to project leads to support them in developing innovative technologies that benefit humanity. CS&S supports PREreview by assisting in managing partnerships with scientists and institutions, connecting with the larger open scholarship community, fundraising, as well as hiring and management of staff.
Funders and Sponsors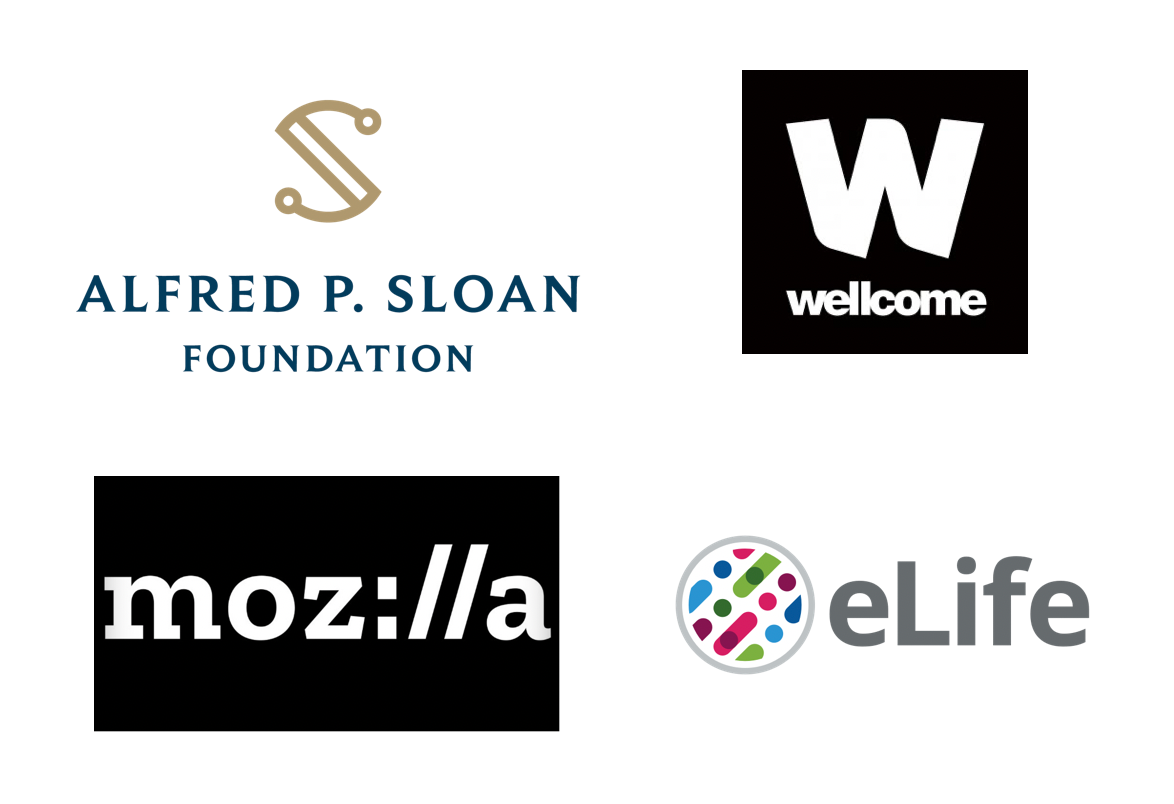 Presented in alphabetic order, below are the funders who have supported us in different capacities since 2017:
Alfred P. Sloan Foundation funded PREreview twice, once in 2018 to support our initial MVP release of prereview.org ($65,780 USD, grant 2018-8729), and once again in 2019 ($197,225 USD, grant 2019-9228) to fund user research and improvements on the platform for a new release coming soon, as well as to support our efforts in building materials and running live-streamed preprint journal clubs.
eLife sponsored our pilot Open Reviewers program by supporting the salary of our program manager ($34,000 USD). eLife is also currently partnering with us, supporting 80% of the salary of our Director Daniela Saderi and offering staff support to several project operations (read more about the partnership here).
Mozilla Foundation was our first funder with the Mozilla Mini-Grant 2017, awarding our first project aimed at engaging groups of researchers in the review of preprints during preprint journal clubs ($2,000 USD).  
Mozilla sponsored our Director Daniela Saderi's salary for 10 months (September 2018-June 2019) via her Mozilla Fellowship ($60,000 USD).
Mozilla has also sponsored several events hosted by PREreview, including a design sprint for Outbreak Science Rapid PREreview in London in 2019 ($10,000 USD) and an open source sprint the summer of 2020 ($10,000 USD), as well as our pilot Open Reviewers program ($25,000 USD).
Wellcome Trust funded the development of the Outbreak Science Rapid PREreview platform in collaboration with the non-profit organization Outbreak Science (£50,000 GBP).
The Wellcome Trust awarded us with an enhancement grant to organize and host design sprints focused on diversity, equity, and inclusion (£20,000 GBP).
The Wellcome Trust also funded us to develop the Outbreak Science Rapid PREreview API and documentation for third-party site integration ($37,000 USD).
Support us!
We also accept individual, small dollar donations. Anything counts towards supporting our small team and operations to keep our project open and free to anyone! Thank you!