A community call to present a new way preprint authors can solicit constructive community reviews
In the past 9 months, we at PREreview have been working with open source developers at the Open Science Consultancy group eScire and community organizers at the preprint server SciELO Preprints to design and develop a plugin that integrates PREreview with the Open Preprint Systems (OPS) software—a free, not-for-profit online archive and distribution server preprints developed and maintained by the Public Knowledge Project (PKP).
The PREreview plugin for OPS will enhance the preprint experience for the scientific community by allowing the possibility of conducting open peer review, a key component of Open Science, in a structured and community-led way.
This work was funded by a PREreview Wellcome Trust Discretionary Award, and will be presented to the community in a bilingual (Spanish and English) Zoom call organized and hosted by the eScire group. Information on the call and how to register is below. Join us and help us spread the word!
WHEN
February 24, 2022
11am-12:30pm CST Mexico (5pm UTC) - check your local time
WHO
Joel Torres (eScire) will moderate a panel of speakers that will include Alex Medonça (SciELO), Juan Pablo Alperin (PKP), Daniela Saderi (PREreview), and Pedro López and María Elena Herrera (eScire).
The presentations will be followed by a moderated Q&A with the audience.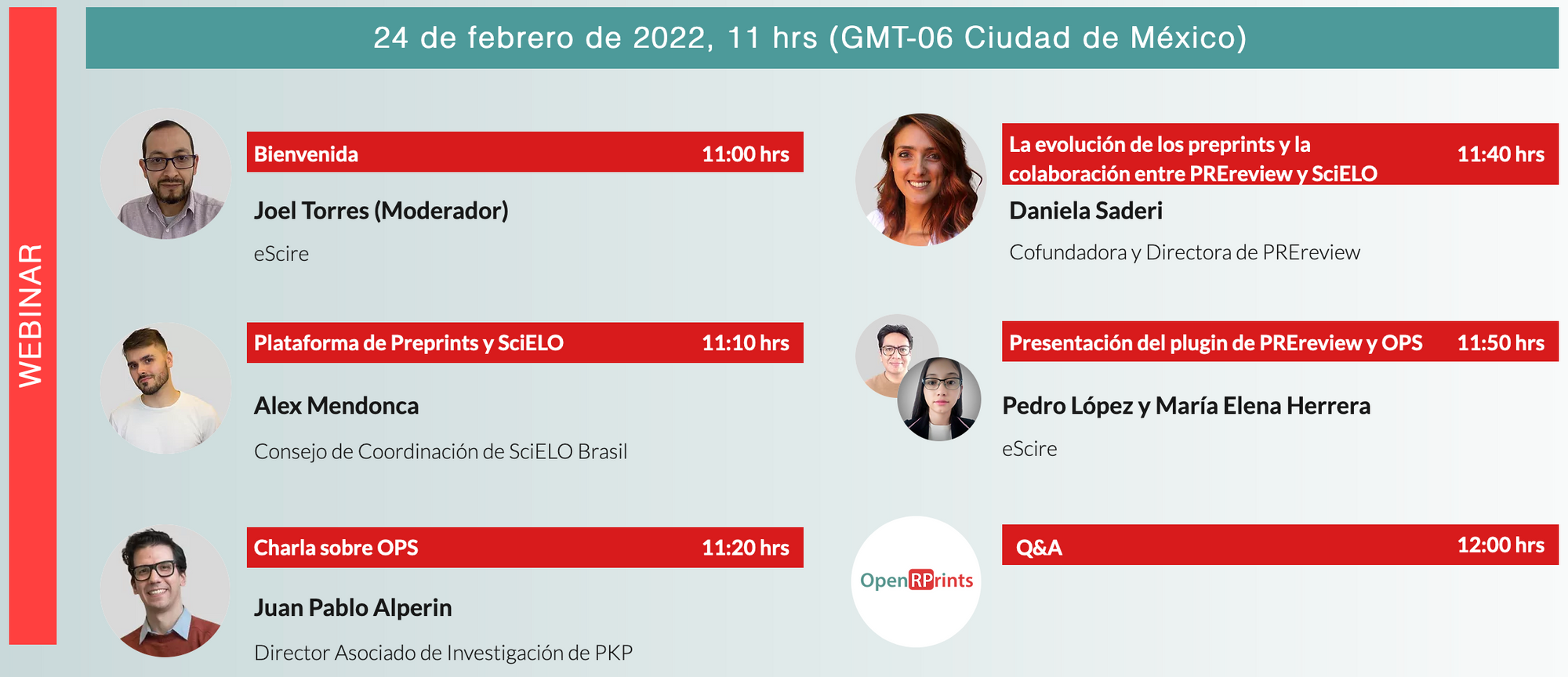 LANGUAGES
Spanish 🇲🇽 <--> English 🇺🇸
The call will be hosted on Zoom and offer live interpretation from Spanish to English and vice versa. We thank in advance Monica Granados (PREreview) and Arturo Garduño Magaña (PREreview) for their help with live interpretation.
OBJECTIVES
To engage the research community in conversations around the current state of preprint publication and evaluation.
To showcase the results of a collaboration between PREreview, SciELO (OPS) and eScire that led to the development of a plugin that will allow preprint authors submitting to OPS-based preprint servers to request and visualize feedback from PREreview community members.
To discuss the impact of open assessment of research manuscripts on open education.