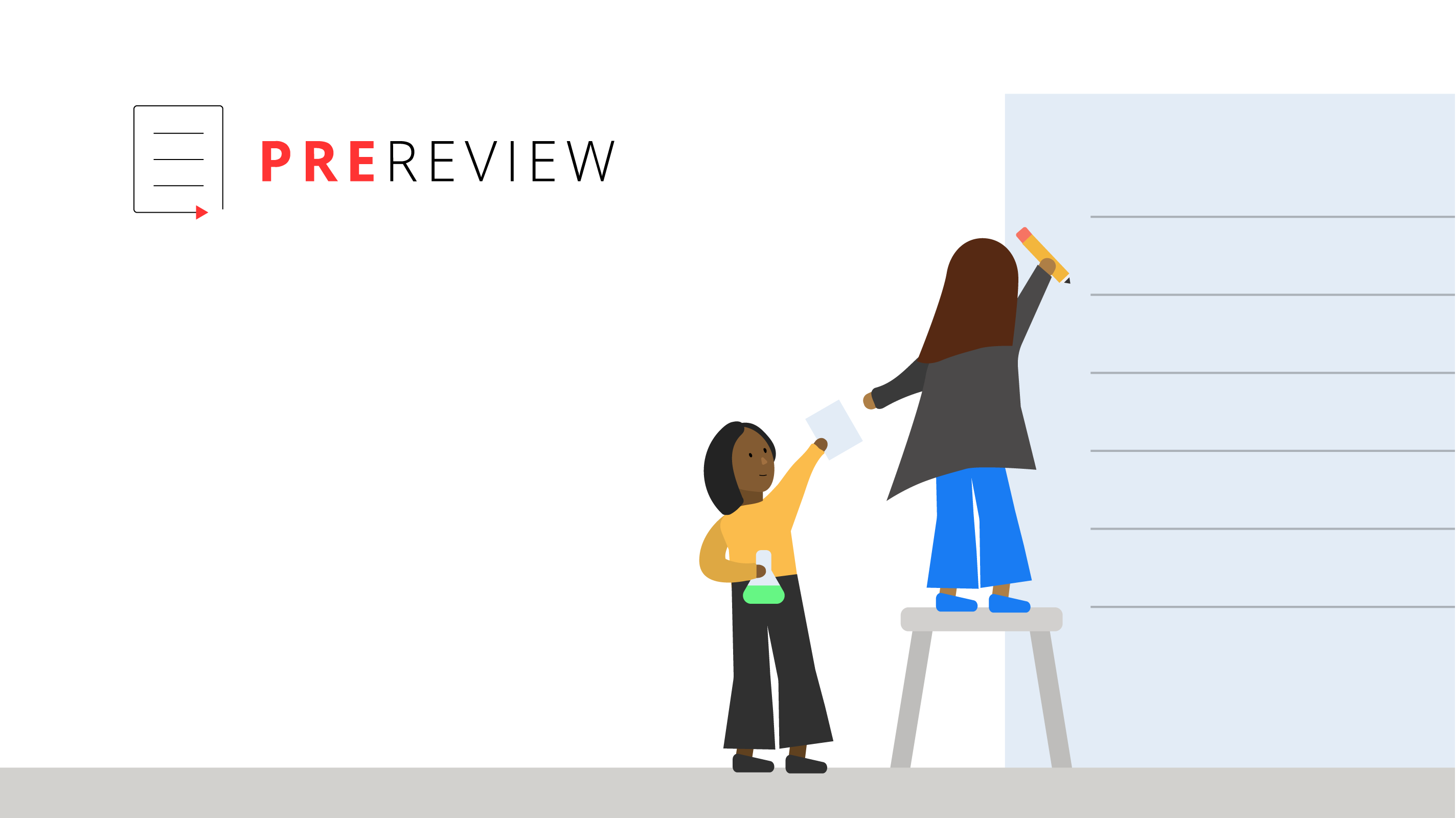 We are excited to present the beta of the new PREreview v2 platform, designed from the ground up to empower a new research community of preprint reviewers. With PREreview, researchers can compose a review of a selected preprint and share it openly with the wider community.
We are keen to hear what you think, welcome suggestions on how to improve it and make your experience better. Please note that not everything is perfect in this beta, so we thank you for your patience. You can contact us directly at contact@prereview.org or fill out this anonymous feedback form. Thank you!
For those of you interested in learning more about the platform's main features and the rationale behind them, below is a list.
Who did we design for? 👩🏽‍💻 👨🏿‍🔬 👨🏻‍💻 👩🏼‍🔬
While PREreview can be useful for all researchers, we focused our design on serving the needs of early-career researchers and researchers from groups under-represented in scholarship.
Reviewers. PREreview can help you find preprints in your field to review and get context on them by reading others' PREreviews. You can comment on others' PREreviews and endorse them. In addition to providing valuable feedback to the preprint authors, your  PREreviews can help you improve your peer review skills and build a name for yourself as a thoughtful reviewer.
Authors. If your are a preprint author, you can use PREreview to solicit feedback from the community. Let others know you welcome feedback and appreciate the time others are taking to help you improve your work.
Login through ORCID 🔑
Based on feedback from the community, we have made it possible to log in to PREreview using ORCID iD, a unique identifier researchers can use to sign their work. We adapted ORCID's open API to connect users' ORCID profiles to PREreview directly so that you don't need to re-enter information. If you don't have an ORCID iD, you'll be prompted to register.
Anonymous identity as the default option for users 🦸🏾 👩🏼‍🔬 🦸🏻‍♂️ 👨🏽‍🔬
In support of promoting openness in peer review, everything on PREreview is open by default, but to foster a safe community, your public account on PREreview will not be publicly connected to your real name or ORCID iD — unless you choose to have it be. As administrators on the platform, we will be able to enforce the Code of Conduct (see below) if a user's behavior violates our policy.
The choice of having private profiles by default was intentional and guided by our goal of engaging researchers from underrepresented groups in peer review who are more likely to be in a vulnerable position and may have concerns about retribution.
To change this default status, you will have to switch the profile status from "Private" to "Public". This change can be made at any point in time, even after you have contributed anonymously with several PREreviews and comments on the platform. However, as of now, if you decide to disclose your identity, all your activity and content shared on PREreview will be permanently associated with your name and ORCID profile.
If you decide to keep your identity hidden, you will be able to securely share your contributions on PREreview with a selected third party. This could be a journal editor or a future employer, for example. (This feature is not yet active on the beta, but it will be soon.)
We'd love to hear from more of you about this feature — creating safe environments in open communities can be challenging, and we want to make sure that everyone has pathways that allow them to contribute safely, without fear of retribution.
PREreview Code of Conduct 🙅‍♂️ 🛑 🙅‍♀️
From our workshops, sprints, and interviews, it became clear to us that it is important to promote a safe space for healthy and harassment-free peer review. As a result, we prioritized developing a Code of Conduct (CoC) and building it as an integral feature in the platform. To complete registration and start interacting on PREreview, you are asked to agree to the PREreview CoC.
We are committed to supporting and nourishing a healthy and harassment-free community of preprint reviewers in which everyone feels safe to express their feedback honestly and constructively. While the content PREreview users decide to publish on the platform is not moderated prior to its publication, our team reserves the right to remove content that violates the CoC and, depending on the circumstances, temporarily or permanently block the account of the offender who will not be able to re-join the community.
If you experience or witness a violation of the CoC, you are invited to report it by emailing us at contact@prereview.org or by submitting an anonymous CoC violation form.
Preprint authors can request feedback 🙋🏾 👐 💁🏼‍♂️
If your are a preprint author and your preprint is listed in your ORCID profile, you will be able to solicit feedback from the community. This will allow PREreviewers to prioritize, if they wish to, the review of preprints whose feedback is most needed. (This feature is not yet active on the beta, but it will be soon.)
Search across preprint servers 🔍
We built a module called "getpreprints" that will soon be made open source that allows you to search through supported preprint servers for the preprint of interest, based on keywords, title, author, or DOI.
You will also be able to to sort preprints based on the number of associated PREreviews, the timestamp of the last PREreview publication, and, importantly, based on whether a preprint author has requested feedback.
Preprint display and review interface  📖
Once you select the preprint of interest, you will be directed to a split screen (see Figure below) in which you will be able to scroll through the preprint while either writing your own PREreview or reading others'.
We display content that is licensed permissively for reuse on the left side of the screen in the form of an i-frame (currently displaying as a PDF), alongside a panel on the right that shows either the text editing box to generate the review or the associated PREreviews authored by other users.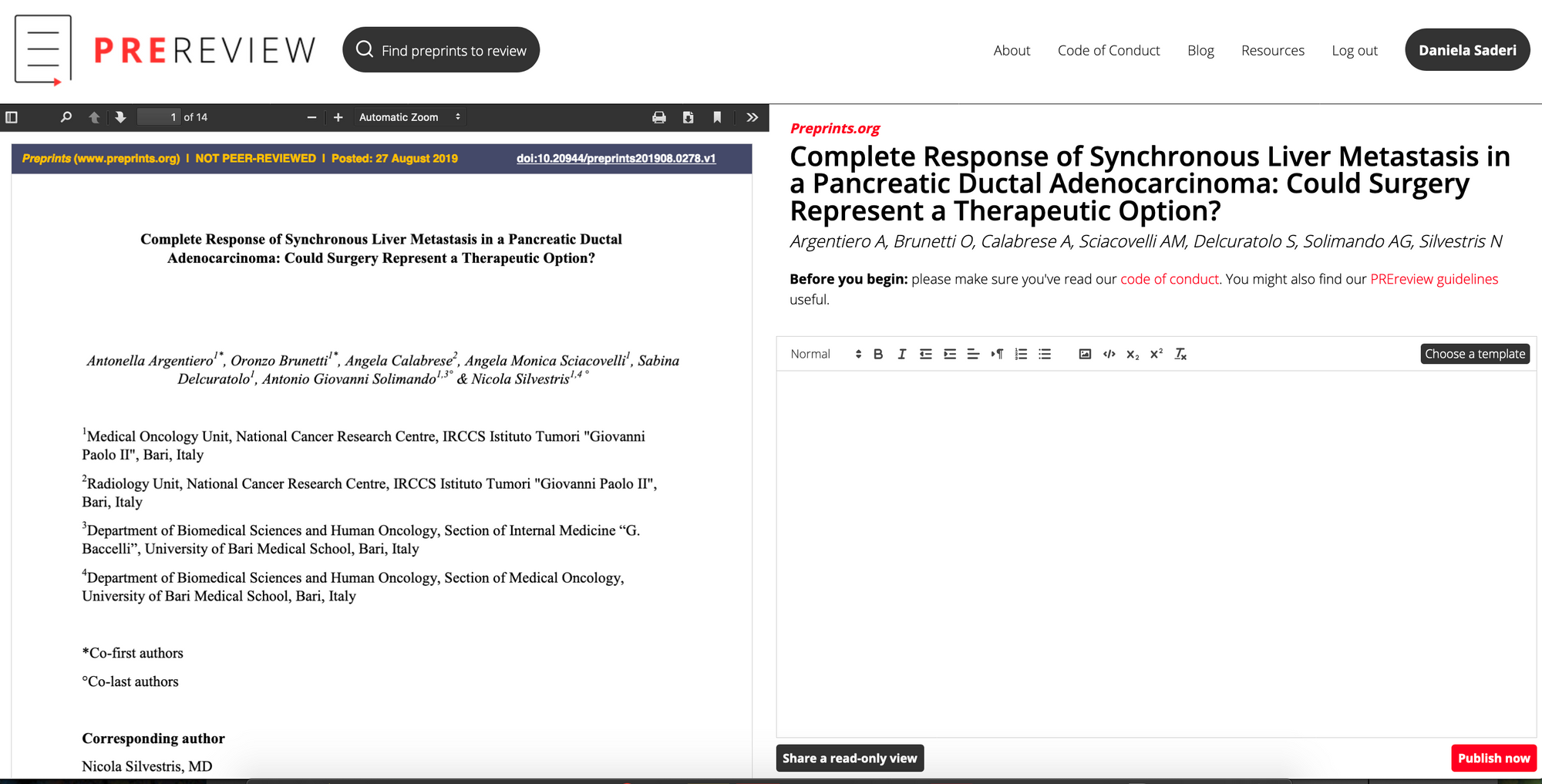 Importantly, we are not hosting the preprints on our server, but we are pointing to or serving from the preprint server's domain and then displaying the openly licensed content in an i-frame. Every time a user views a preprint on PREreview, the server that hosts that preprint gets a request directly from that user therefore ensuring that the servers gets accurate metrics about preprint usage.
For your clarity, we always display the source of that content together with associated metadata.
Multiple PREreview authors and mentors 🤝
You will be able to add other PREreviewers as co-authors of the PREreview. Furthermore, if you wish to receive feedback on your review from a third party, such as another researcher or a mentor, you can share a read-only link of the PREreview that you can share with them to access the draft. (This feature is not yet active on the beta, but it will be soon.)
PREreview templates to guide the review 📝
To help users write a PREreview, we provide two basic templates: Template 1 is a quick questionnaire that can be copied and pasted into a collaborative document during journal club, for example, or loaded directly into the editing PREreview window to guide the review process; Template 2 is a guide for a more detailed report, similar to what a researcher would be asked to write if they were selected as a reviewer for a journal.
Free Digital Object Identifier (DOI) for each PREreview 🔗
Each published PREreview will be assigned a permanent digital object identifier (DOI) that will allow the PREreview to be cited and listed by the user as their contribution to preprint peer review.
DOIs will be issued through Zenodo. However, these will not be active until we move from the beta to the final v2 to avoid test PREreviews to enter the public scholarly record in during the testing phase. If you do write a PREreview during this time, however, once the beta phase is completed, we will ask for your permission to assign it a DOI.
Commenting and applauding PREreviews 👏🏿 👏🏼 👏🏽
You will be able to comment and even endorse, or better, applaud PREreviews. We integrated PREreview with plaudit.pub, a light-weight extension that enables researchers with an ORCID iD to endorse research contributions with a DOI – in our case, PREreviews.
Once again, this feature will be active only once we wrap up the beta phase to avoid permanent links to your scholarly profile during the testing phase.
PREreview resources ℹ️ 🙋🏾
We have some resources to help researchers start a preprint journal club, including email templates and tips on how to engage the community. And we have already set up and facilitated several live-streamed preprint journal clubs, events that happen online via platforms such as Zoom, allowing for any researcher with an internet connection to join the discussion and connect with other researchers in their field.
We welcome community input and participation on making these resources relevant, complete, and keeping them up-to-date. To contribute to these docs, please raise an issue or issue a pull request on our documentation GitHub repository.
What happens to PREreviews published on the old platform? 🗄️
PREreview started out as a group page on Authorea. For the past two years we have been lucky to receive the support of the Authorea's team, particularly from Josh Nicholson (who is now Founder and CEO of scite.ai) and Alberto Pepe, who helped us set up PREreview v1 and granted us free use of their platform.
As we geared up to move to our customized platform, we asked current PREreview/Authorea members if they wished to have their membership transferred to PREreview v2 as well as their contributions. We are currently in the process of migrating the data; at first, the beta will not yet display content that was published on PREreview/Authorea, but we expect to have that content migrated over in the coming months.
Future directions 🔮
During this beta phase – which we are aiming to wrap up in the next 2-3 weeks, we will gather your feedback and continue working on the platform's user experience and interface.
We are actively fundraising to support more development, design, community engagement – including interactive peer review training and sprints, as well as to build a resilient sustainability plan for the future of our community.
Features that we would love to further develop include tools to facilitate networking and deep collaborations on PREreview, workflows to facilitate collaborative writing of reviews in journal club or teaching settings, and easy ways for partners' journal editors to access interested PREreviewers' profiles and contact to be invited to formally review a manuscript submitted for journal publication.
Next in our roadmap is focusing on the development of Rapid PREreview, an extension of PREreview v2 designed to serve the community of researchers involved in public health crises. This project is a collaboration with the non-profit organization Outbreak Science and funded by the Wellcome Trust through the Open Research Fund, and is scheduled to launch at the beginning of the new year. Stay tuned!
If you would like to contribute to any of this work, please email us at contact@prereview.org. Thank you!
Help us get community input by signing up today to PREreview v2 and sharing this post with your network.
Follow us on Twitter @PREreview_ to stay tuned.
Acknowledgements
We thank the Alfred P. Sloan Foundation, and in particular our Program Officer Josh Greenberg, for funding us with a seed grant which allowed us to hire a software developer and work with the incredible team of user experience designers and researchers from Simply Secure.
We thank our fiscal sponsor Code for Science and Society and our Advisory Committee for their support and precious advice throughout these months.
We thank the eLife Sprint 2018's participants for their expertise and time helping us craft the first design plan for the platform which was instrumental in helping us write a strong proposal which led to the Sloan grant that supported this work.